STOWARZYSZENIE TEATR M U M E R U S

EDUCATION
---
Wiesław Hołdys
Teatr Mumerus' youth theatre workshops – a personal retrospective view
I am not a teacher. I am a theatre director. Like my director friends, my job consist of travelling from one theatre to another and directing plays written by someone, other than me. In my opinion, theatre as an organisation should be a dynamic activity which shouldn't be restricted to the stage of a municipal theatre. For this reason, I accepted Magic-Net's proposition to start an educational activity for which I had to bring a theatre workshop into existence.
I decided to start an educational programme and initiate a workshop for two basic reasons:
First of all – it was something entirely different for me, and new challenges are elementary in the curriculum of every artist since there is no worse enemy than routine.
Secondly – I saw a chance of broadening the social base for the existence of theatre through theatre education. I am convinced that through such a social action, theatre, as an organisation should have a responsibility for the community. In other words – artists, as beneficiaries of public funds, must prove in different ways that they are needed for the benefit of society.
GUIDELINES OF WORKSHOP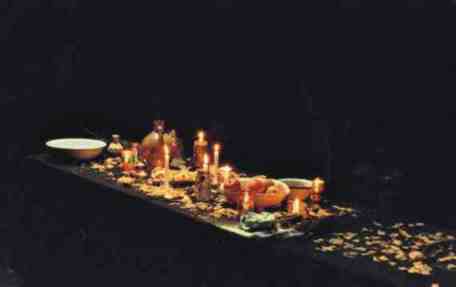 First I chose a partner school; the Institute for the Blind and Partially Sighted in Krakow. The aim of the first activity was clear: To devise a performance taken from Polish classical literature, which could be shown at the international festival in Frankfurt (Oder), together with the works of other European youth theatres. I made the proposal to adapt some texts from the area of romanticism, but the choice belonged to the young people. After the school made the announcement, a group of 30 youths between the ages of 17 and 18 appeared at the first meeting. Naturally the group was reduced by half. At this stage, discussions concerning literature were the most interesting. I proposed three plays – "The Wedding", a symbolic drama by Stanislav Wyspianski, "Kordian" – a romantic drama by Juliusz Slowacki and "Forefathers' Eve (part 2 )" – a ritual performance by our famous romantic writer Adam Mickiewicz. Surprisingly, the young actors rejected "Kordian". Its theme of the initiation of a young person – so typical to romanticism – was not interesting for them. The final choice between a very Polish symbolic drama, "Wedding" and "Forefathers' Eve (part 2)", which is universal in its rituality, came as a result of voting. "Forefathers' Eve " won by one vote.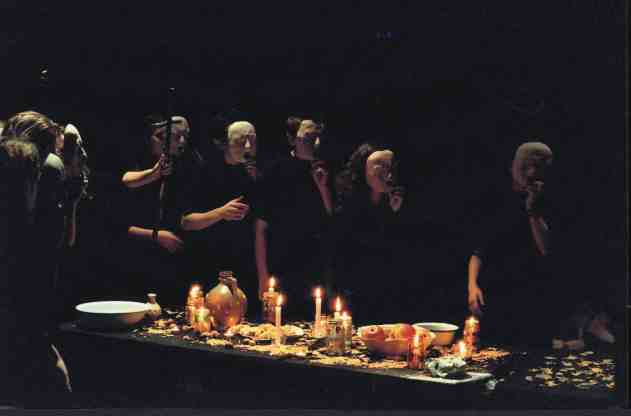 REALISATION OF THE PERFORMANCE
The whole process of rehearsing lasted one and a half months (2-3 sessions a week with 2-3 hour rehearsals). Apart from the students, two educators participated in the project – Zofia Szczepaniak, who created the masks, and Barbara Lenczewska who was responsible for logistics. Kinga Piechnik from Teatr Mumerus took part as an assistant director.
Rehearsals basically resembled those of a professional theatre company: exploring, devising, creating and finally repeating situations several times on stage. Music (performed live by one of the participants) was created through improvisation. It was very moving for me that young people were creating a ritual in a very honest and direct way without being reluctant to do so – they kneeled, prayed (reciting the words of Mickiewicz), and sang to invoke ghosts (played by themselves). The belief that there might be a possibility of invoking ghosts was very touching for me. To tell the truth – in a professional theatre such an approach would be impossible because the question usually asked by pseudo professional actors is "What am I supposed to play?" and damages all metaphysics ( without belief in rituality of " Forefathers' Eve (part 2)", it cannot be performed).
The premiere took place at the festival in Frankfurt (Oder) in front of a multilingual audience (the majority not understanding Polish). The effect was splendid – the audience comprehended! Like the creators of the performance, they also believed in the ghosts of forefathers appearing on the stage. It proved that Polish literature is extremely universal. We performed this play several times in Krakow and once in Waldkirch/ Germany.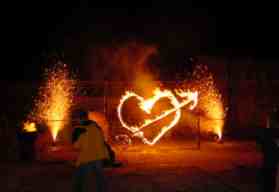 WIDENING THE RANGE OF ACTIVITY
After the realisation of "Forefathers' Eve (part 2)", I decided to widen the programme of my work with youths. The idea of making a performance cycle of photographs called "Romeo and Juliet in 30 pictures" was developed by Magic-Net. We decided to create it.

We started wondering around Krakow seeking the right scenery. Some of them we found under a bridge, in a modern park and also in Zofia Lenczowska's garden. During the excursions, the young participants were wearing various masks made by Zofia Szczepaniak and I was taking photos. It was fascinating, that we learned to observe the surroundings (while trying to perform the story of Romeo and Juliet), and paid attention to the beauty, we usually do not recognise.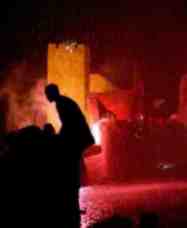 Simultaneously I was preparing my young actors for the journey to Palmela in Portugal, where they were supposed to work with groups of young people from all over Europe and produce a large street parade under the leadership of Emergency Exit Arts, London. The group had encountered this type of event by participating in the celebratory event in Frankfurt (Oder), but I thought it would be important to have them better prepared. Since the topic of the performance was the "Four Elements", we devised an art workshop. Firstly, the young people, educators and actors from Mumerus sat in front of a sheet of brown paper and drew anything they associated with the topic. The target was to free the imagination and activate the subconscious. Then we prepared costumes and props for the parade. I must admit that the multinational events that came into being in Frankfurt (Oder) and Palmela were really impressive, and I am happy that I could prepare the Polish teenagers to collaborate with their peers from all over Europe.
REALISATION OF A COMMON PERFORMANCE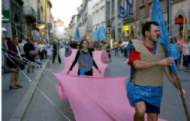 The next stage of our search within the confinements of the workshop was returning to create a theatre performance. Once again I wanted to widen the area of work, so I decided that it would be an open-air event and it would be created through the co-operation of a group that I invited. This was also done for educational reasons – and theatre is a wonderful tool for that! These young people came from Spain and were connected with Teatro Guirigai. The Polish and the Spanish groups had become friends in Frankfurt (Oder), where they worked together on the celebratory event. The other reason for this choice was that our theatres, Guirigai and Mumerus, had started a co-production called" National Hero". So I wanted Mumerus to meet on two areas of activities: professional and educational. That is why I proposed street theatre, which aimed to create a monument of national heroes. It was supposed to take place near the monument of Adam Mickiewicz – the author of "Dziady / Forefather's Eve" – who is a poet of national importance for the Polish people. The monument stands on a pedestal in the middle of the central market place (and life goes on around it). We wanted to place some other figures of our imagination, around Mickiewicz and we called the whole performance – "Monument of a Hero". There were three groups of young people: The Spanish, the group from Krakow that I had already worked with, and some participants from Lubaczów – a small town in the east of Poland. First of all, each participant was supposed to choose a hero, whom he wanted to represent. The proposals differed very much, for example: a pair of Polish puppets from a TV series; zloty – our currency, Mikolaj Kopernik us – famous astronomer. The Spanish group proposed characters from "Don Quixote" such as: Sancho Pansa, Dulcinea and The Windmill. Every participant was supposed to design a costume and find a musical motif for his or her hero. Then, Magda Arenal, from Guirigai, and I started rehearsals in which all the young people, actors from Guirigai and Mumerus, and the teachers Zofia Szczepanik and Barbara Lenczewska participated. Soon it turned out that creating theatre using dance, music and movement can be fascinating and we could spend days on it. The event on Florianska Street in Krakow was less fascinating. This was where we started our parade of "adventurers".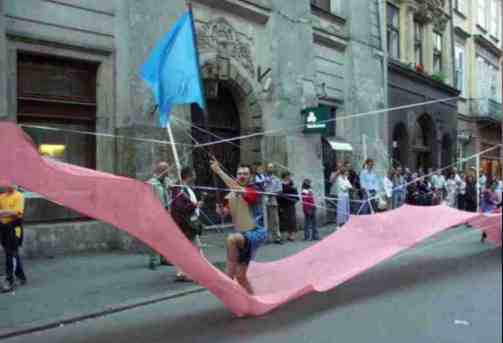 When we finally reached the monument of Mickiewicz, the skies opened, a thunderstorm started, and the audience started to run away. Luckily they could watch us from under the arcades nearby. Young actors continued the performance, dancing around the monument while their costumes and props made of paper and plastic were fading in the rain. The audience applauded and shouted "more" from the arcades. It was one of these moments when an artist gets a satisfaction of his work.

NEXT GROUP

After almost three years of work with the pupils from the Institute, I have decided to close the workshop for simple reasons – most of the participants are now passing their final exams and will be leaving the school. They will find their own way in their life. I think they must appraise themselves with what they received from the adventures with Teatr Mumerus. Obviously the work with them gave me a lot.

In begining of 2004 I moved my attention to other areas, and opened a different kind workshop for teenagers living in a block of flats in post-communist Nowa Huta, and have started cooperation with XXIst Lyceum (artistic profiled) We had got propostiob from Berlin's Culture Centre "PUMPE" to common the work on "Yvonna, Princess of Burgundy" a play by Witold Gombrowicz .The performace

"YVONNE - The tragic comedy based on Witold Gombrowicz" was effect of this coproduction was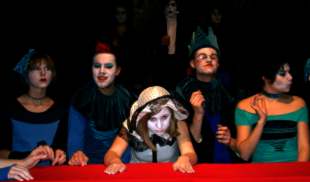 ---
© 2000-2005Wiesław Hołdys
Wszelkie prawa autorskie zastrzeżone.
ostatnie zmiany -03 -03-2005 - last update